Hello, everyone! I want to make a list of independent author's books for people to read. Some of them will be writer friends of mine and others will books by authors that I've never met or spoken to. But my intention is to boost the signal for independent authors here.
The first I'm adding is from a lovely author friend of mine, Sue Mansbridge. She's in one of my critique groups and has been very supportive. Here's the blurb:
"Millenia have passed since the great Mage War which devastated the land of Zelannor. As they struggled to survive the terrible catastrophe, the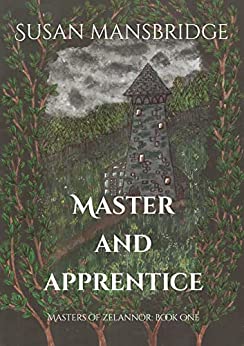 surviving Mages decided to divide magic into three disciplines, so that no one person could ever hold such power again.

Years later, Reez, a boy of 12, is apprenticed to Wicton, the Master of green magic, a force concerning all things that are planted and grow. As he struggles to grasp the intricacies of his craft, he also needs to learn how to temper his arrogance and repair the fractured relationships of his childhood.

News from the east, however, brings the possibility of an even greater threat. Reez and Wicton suspect that the Master of Anima magic covets greater power and is seeking to learn another's craft, forbidden since the division. Such an act could destroy the peace and prosperity that has existed for more than 4,000 years.
You can find this book on Amazon Kindle and also in paperback.
---
Next, I'm including a book from Cathy Parker,
The Power of Three,
the first in a trilogy.
"Attorney Shannon Kendricks is about to be more than just a volunteer at Seaquarium. She's on a mission: to return a small alien child, Essi, to her own planet before it's too late. With ancient aliens determined to destroy them, Shannon must act quickly.
Strangely, a bizarre lavender lightning strike allows Shannon to hear Essi's thoughts—as well as the tormented thoughts of a captive beluga whale. Shannon uses this inexplicable bond with the alien and the whale to fight their ruthless enemies who will stop at nothing to annihilate them. Shannon soon learns the most terrible threat comes from within...
The telepathic connection is slowly killing her. She cannot sustain it alone. Enlisting her friends is her only hope—but it could endanger them all. Can she save herself, save her friends, free the whale and send Essi home before dark forces take over the world?"

To read more about Cathy and her books, you can go to her website: https://authorcathyparker.com/. Her books can be found at Amazon, Barnes & Noble, and other sellers.

Cathy Parker informs me that her current project "involves a woman with a most unusual paranormal gift who becomes entangled in the scheme of two unscrupulous men who aspire to be the power behind the throne of the next President of the United States, who happens to be a most unlikely candidate."
---
Another author I'd like to present is actually a collaborating pair--Mae Jordan and Z.K.S. Ravenwolf. They have written a series, the first book of which
is called
Flowers and Bones: Demons and Deities
.

"Shattered dreams lay around Rosalind MacBeth's life. A Chosen of deities, trained to hunt monsters in Japan, she is forced to flee the only life she's ever known after her family's mysterious death.

Tick Tock, a hunter of the supernatural, is also a Chosen. After his husband is slain, the Hunter's Association sends him away on a mission to find a young person with flowers and bones in their hair: Rosalind.

A dangerous road lies ahead for them both. Corruption and civil war brew inside the Hunter's Association. Supernatural beasts of all kinds close in for the kill.

Will they survive?"
You can get this book on Kindle Unlimited for free! It's also available in paperback and hardcover. Click on the link:
Flowers and Bones: Demons and Deities
to get it!
---
The next author I'd like to feature is J.L. Henker. She wrote "You're Really Going to Cook That?" which is a submission in an anthology called
Written With Pride.
It's Pride Month, and I want to show my support.
The blurb:
"Created in opposition to Florida's Don't Say Gay bill, Written With Pride is an anthology exclusively filled with short stories by authors who all belong to the broad and beautiful spectrum of the LGBTQIA+ community. The stories range in style and subject matter, as well as genre-from contemporary to speculative fiction. Not all of them have happy endings, but all of them were penned by members of our community who still believe in their voice."
You can read this anthology for free if you have Kindle Unlimited, or you can purchase a hardback or softcover version. To get it, go to this
Amazon link.
---
Beth Dolgner had a couple of cozy paranormal mystery series out there. Check out her
Eternal Rest Bed and Breakfast Cozy Mystery Series
. The first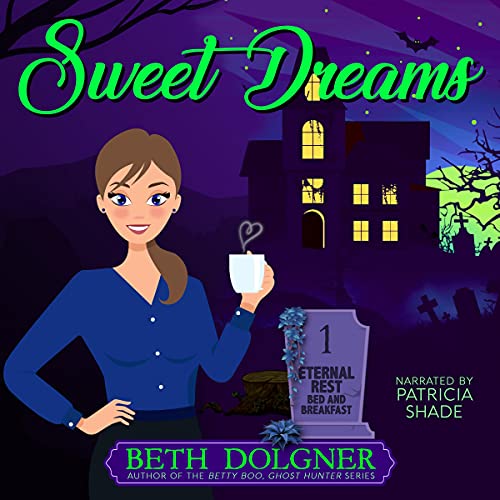 book in the series is
Sweet Dreams
.
The blurb:
"Welcome to Eternal Rest Bed and Breakfast, a haunted Victorian mansion right next to an old cemetery. It's a cozy place to stay, if you're not afraid of the ghosts....
Emily Buchanan doesn't mind that Eternal Rest Bed and Breakfast is haunted. After all, the ghosts are the best kind of guests: They never make a mess, and they don't eat all the biscuits at breakfast.
But when dangerous paranormal activity begins to happen, Emily suspects a new ghost has checked in. The activity seems centered on Emily's handsome new assistant, Trevor, whose brother went missing without a trace when they were teenagers.
When a skeleton is found in a shallow grave at the historic cemetery next to Eternal Rest, Emily begins to suspect Trevor might know a lot more about his brother's disappearance than he claims.
With the help of the ghosts and her psychic best friend, Sage, Emily will track down the truth and the killer. At the same time, she's still looking for signs from the ghost of her late husband, who died in a mysterious car crash. Will Scott ever communicate with her from beyond?
Emily has to deal with an angry ghost, a suspicious employee, and solve a murder...all while getting breakfast on the table for her guests at Eternal Rest Bed and Breakfast. Can Emily solve the case before she's next?
Sweet Dreams is the first book of the Eternal Rest Bed and Breakfast paranormal cozy mystery series. This seven-book series is about hope, determination, and friendship...and solving murders with the help of ghosts in a small town in North Georgia."
You can get it via Kindle, audiobook, and paperback here.