Audiobook Review of Sweet Dreams by Beth Dolgner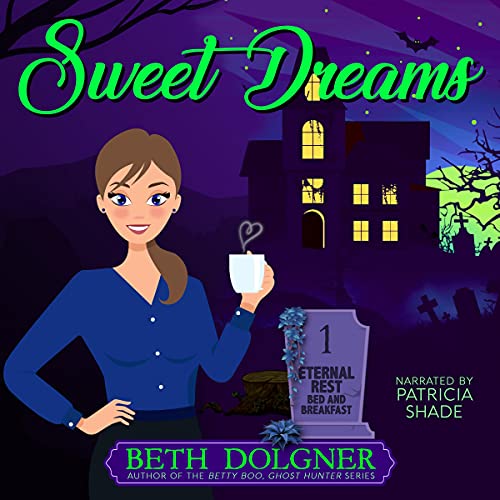 Sweet Dreams takes place in Northern Georgia at a haunted Victorian bed-and-breakfast owned by Emily Buchanan. The mansion is haunted, yes. But the ghosts are well-behaved and rarely get up to trouble. Emily's best friend Sage is a medium and together they host séances periodically for Emily's B&B guests.
The trouble starts when a ghost makes people have bad dreams, including Emily. It throws Emily's guests' items of clothing on the lawn, among other antics. In particular, the ghost seems to be fixated on her newest employee, Trevor. Worse, it is getting violent towards him.
Emily is much kinder than I am. When the ghost strangled her, she took it as a message. The ghost was trying to say someone had strangled her to death. If it had been me, I would have been noping my way on out of there! Emily has a very kind soul, however, so she decides she needs to figure out who the victim was and who the killer is, so she can help the ghost rest in peace. A couple staying as guests who are amateur ghost hunters are excited about the activity and offer to help Emily sort it out.
The rest of the book is very much like a mystery, where one question gets answered and three others pop up. Usually in mysteries, the detective questions the witnesses, but in this case, the witness is dead. Emily must partner with her friend Sage and her ghost hunting guests to get the ghost to spill the tea. When Sage says she wants to give classes to ghosts on how to better communicate with people, it tickled my funny bone. Indeed, we would have had a very short book if she figured out how to do that.
Overall, the story was engaging, and I enjoyed the characters, especially Sage. She's a hoot. The narrator Patricia Shade does a fine job of doing a southern accent without making it over the top. As an audiobook, it's a quick listen, clocking in at only 6 hours. I recommend you give it a whirl, if you're in the mood for a cozy mystery with ghosts.