Book Review: The Invisible Life of Addie Larue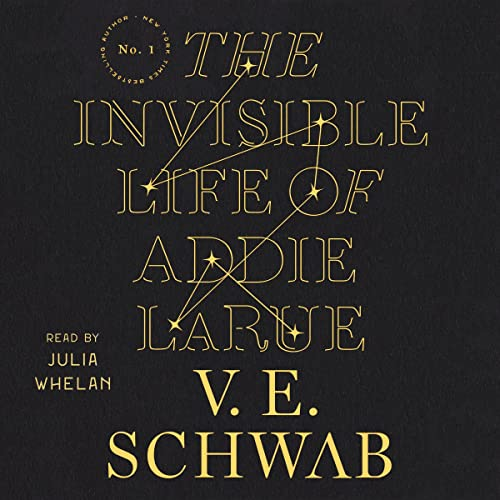 Written by V.E. Schwab and published in 2020, Addie Larue isn't a new book. But it was new to me, and I imagine there are some of you out there who haven't read it yet, so I decided to review it, anyway. I'm glad I found it. It's not my usual fare–I like books that have a lot of humor, or action, or are cosy, or… whatever this isn't. But this book was so engrossing, I couldn't stop listening to it.
The narrator, Julia Whelan, does a spot-on French accent, and a number of other accents, besides. I've always had trouble with female narrators taking on the male voice, but in this one, she does a wonderful job, and it doesn't take me out of the narrative at all.
It has been such a long time since I have been so immersed in a story that I didn't want it to end. I felt the characters so deeply; they became a part of me and I saw myself in them. Addie Larue is a kindred spirit, seeking the new, constantly learning, constantly exploring. Things that I have always done and continue to do. Henry, too, is a kindred spirit, because he doesn't know who he is and is searching for himself.
SPOILERS AHEAD

The premise of the book is that Addie Larue is a woman born in the 1700s and is being forced to marry when she doesn't want to. She wants to be free. She believes in the Old Gods and pleads for help. They help keep away marriage for a time, but she makes it to her mid-20s when the pleas finally go unanswered. She must marry, she must become someone else's property. In her desperation for freedom, she pleads once again to the gods for help. The wrong god answers her prayers and exacts an expensive price for her freedom.
Soon, Addie discovers her newly gained freedom is its own prison, as she is cursed to live without a name, and with no one remembering who she is. The moment she is out of their line of sight–she runs to the bathroom, or they leave the room–they no longer remember who she is. She can't hold a job, she can't write her story, she can't write at all. She can't even tell people her real name. Addie refuses to give up, determined to be immortal just to spite the Darkness, and refuses to his calls for surrender.
Three hundred plus lonely years pass before she meets someone who remembers. The Darkness cursed Henry, because he also made a deal. Addie and Henry fall for each other, and for once Addie thinks she finally has a chance at being happy. She appeals to the Darkness, but a deal is a deal, and he won't waver. Terms can change, but a deal can't be nullified. Addie must accept the loss as she always has… or do something incredibly, radically different.
She surrenders.
Her surrendering isn't in the way you would think, mind you. You'll have to read the book to find out.
This book made me think about the power of time to make everything forgotten, of death, of the imprint we leave upon the world, our legacy, and the power of our names. Very few people gain the fame where their names are known by most 500 or 1000 or 3000 years later. Most people dwindle into dust, the landscape changes, the world changes. This book is so heavy in so many ways. It hurts, it's so heavy. My heart aches for these characters. For their loss, and for my own. I, like them, will someday be nothing but ashes and my name lost to the wind.
I highly recommend The Invisible Life of Addie Larue. It's the best book I've read in many, many years. I don't really have favorite books, but now… maybe that is going to change. I foresee this being one of those books that I read multiple times, something I almost never do.